Vodafone
Deflecting the number of customer calls for internet incident handling.
Vodafone Group is a British multinational telecommunications conglomerate, with headquarters in London. It predominantly operates services in the regions of Asia, Africa, Europe, and Oceania. It ranks 158 among Fortune500 companies with an annual revenue of $52bn and 111.000 employees. Vodafone Germany is a premium telecommunications service provider and offers services to 10 million customers in Germany (including acquired customers of Kabel Deutschland).
Project Mission
Building a Smart Mobile Hub that allows Vodafone clients to proactively manage and solve their incidents that they otherwise would have solved with a call to the hotline.
Challenge
Exponentially increasing Internet traffic causes maximum call center utilization and associated enormous costs.
As a Vodafone customer, you have gotten used to the great customer service that was provided. As a consequence, you have effectively often resorted to calling the hotline, whenever there was a problem. This is especially valid for the case of clients having issues with their internet connection (e.g. being slow, interrupted or offline). In a lot of cases, the problem was systemic and was therefore not immediately solvable by the client service reps. In other cases, clients were guided through a process of checks and advises that the service reps gave them, in order to be able to narrow the problem down.
This process was long, frustrating and sometimes tedious from a client's point of view, as well as quite costly for Vodafone to maintain. With an increase in the number of devices connected to the internet, the likelihood of clients identifying any shortcomings of the service (no connection, slow / interrupted connectivity) - Vodafone identified an increase in the amount of calls to the client hotline and a resulting increase in cost. We therefore wanted to create a more efficient means for clients to help themselves while enabling Vodafone to manage their costs with an equally good or even better customer experience.
This was compounded by the fact that Vodafone had already failed with its first initiative and thus lagged far behind its savings targets for 2018. The Vodafone Incident Management department turned to Hackerbay after they learned that we had already delivered results to another department in a very short time.
Approach
Through its strategic approach, Hackerbay correctly identified early on in the project which KPIs were the basis for the success of the project.
We started mapping out the core value to build on such kind of a solution from a strategic point of view, using our proven Blueprint framework. Within this framework we put deep focus on exponential technologies as well as network effects that we could leverage, to achieve maximum growth as well as highest defensibility for the client's business. Always against the background of a scalable App architecture.
In order to get the project up and running we began with identifying best practices of customer care applications (from a technology point of view). Which players are known for their great customer service experiences are out there in the market and why were theyconsidered as such.
We were holding different consulted workshops with relevant stakeholders of the client's project team in order to find pragmatic solutions towards project success within a given time- & price frame.
In our first consulted workshop (Blueprint), we created mission clarity by analysing the following points:
Market Opportunity:
Findings were, that the internet traffic in private households was exponentially increasing, through the growing number of devices connected to the wifi.
Cutting edge technology, for example: open source foundation components, make it now possible to be super fast in building applications like this, while being very cost efficient at the same time.
Data Networkeffect potential where each new data point (customer usage of the application) makes the algorithm better and therefore again attracts more new users because the application helps them to solve their problem.
Business Model:
The software solution will provide business value because of the savings generated by cost reductions.
There is an exponentially increasing gap (internet traffic growth on the customer side vs. decreasing customer support budgets internally at Vodafone's incident Management) that can be closed by leveraging digital technology potentials and therefore create saving potentials of 184 Million.
Value Proposition:
The Value Proposition is to reduce the complexity of incident management for customers of Vodafone.
Target Audience:
We have identified any fixed net client of Vodafone as potential target audience.
Initial focus group scenario was, every Vodafone customer that has internet problems in his home and has access to his router as well as mobile internet access on his smartphone.
Key Activities:
Standardisation - Professionalisation - Centralisation - Specialisation
Smart Hub for Incident Management
Distribution Date:
The final version of the Application has to be presented by the CEO of Vodafone at the annual Regionstour in Hannover
In the field analysis, we met with the people operating their client services and who understood the pain points that can be solved. Making use of a customer centric approach, we went to the client's customer service center and went through some interviews in order to prioritise for the first drafts and features.
We brought in executive stakeholders at around halftime of the project, to get first hand high level feedback, and made sure to be all aligned on the long term goal. It was crucial that we went onsite to the client several time over the course of the project, scheduling meeting marathons with relevant stakeholders to work around corporate IT-Landscapes technical limitations, to not interfere the timeline. By doing two rounds of user interviews with the target audience, we were able to iterate and adjust as quickly as possible and made it to launch on time with a great collaborative effort.
Solution
The developed application enables Vodafone to react scalable to incident scenarios without causing higher costs.
It was essential to deliver the smoothest possible solution to the customer, as in the scenario of an incident the customer most likely finds himself to be in a stressed out situation. That is why we decided to go with a web bases solution in the first place. It is unlikely to force the client in this kind of tempting situation to go to the app store and download a native application with his personal data volume contract. Without having internet at home but access to mobile internet on the phone, individual QR-Codes were printed on the routers. Now the only thing a customers has to to when he is facing an incident is, to scan the QR-Code on the router. This will redirect him to his personal assistent landing page where he will be guided through the processes of getting back online again.
In case of internet issues the solution is basically helping the client to solve his potential problem himself by going through a number of questions that can explain his most common reasons why he can have a problem. The logic behind this is that in many cases the customer agent on the hotline asks the client a series of questions and guides him to perform certain tests. Those tests are always following the same type of logic and flow, which is why the application provides exactly the same added value as the client would get when calling the hotline.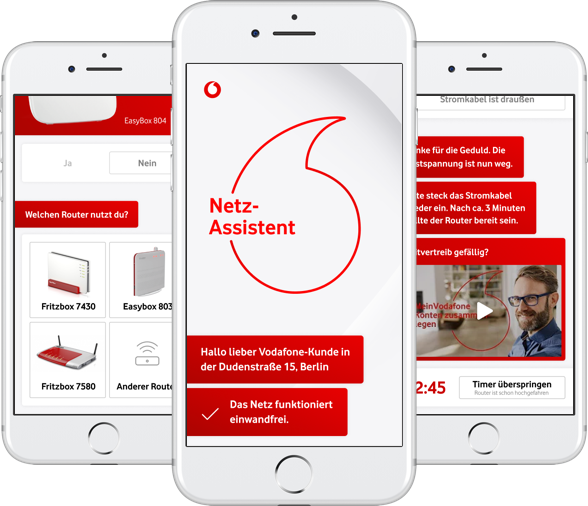 Results
Realization of significant savings within the shortest time after launch of the application.
After a 90 day development cycle Vodafone started rolling out the application for a limited target group within an sandbox environment. Around 7000 users were active on the application within the first two weeks, which resulted in savings of around 50.000€.
By analysing the usage data via analytics we have built in the application, we are following a data driven decision process for further development. First results have shown that there is still room for leveraging potentials through the application funnel, as not all customer problems are being solved. Analytics in that case help us to further prioritise what issue to tackle next.
Further analytics will give an insight into where users are still dropping out of the application and require a call to the hotline. At the same time we should see which of the steps people are solving their problems at and further emphasise clients to push through until that step is reached.
Next Case Study: Allianz >